What Are The Applications of Stepper Motor?
OSM's diversified customer base includes such industries as:

Automated Test Equipment
Surveillance Systems
Avionics
Defense Contracting
Labeling Machinery
Medical Equipment
Packaging
Semiconductor Manufacturing
Metering and Dispensing
Engraving Machine
Automatic Feeding Machine
3D Image Acquisition System
Label and Die Feeder
Wave Length Meter
Bar Code Printing
Antenna
Fiber optics Switch
Laser Measurement
Press Printing
Color/ Photo Imaging
For more details with the Stepper Motor Applications, please click: Application Examples.

If your Stepper Motor Applications isn't in our range, Please contact OSM Motion Solutions in-house Technical Experts for more details or special requests.

Stepper Motor Applications:
• Consumer Electronics - Stepper motors in cameras for automatic digital camera focus and zoom functions. Stepper motors as actuators for mobile phones camera modules

• Automotive and Aircraft - Stepper motors help enable cars, SUV's and RV's to receive telecommunication signals. Stepper motors are also used for cruise control, military antenna positioners, automated sensing devices, and automated cameras. In aircrafts, stepper motors are used in aircraft instruments, sensing devices, antennas, scanning equipment.

• Office Equipment - Stepper motors are incorporated inside PC based scanning equipment, data storage tape drives, optical disk drive head driving mechanism, printers, bar-code printers, scanners

• Medical - Step motors are used inside medical scanners, multi-axis stepper motor microscopic or nanoscopic motion control of automated devices, dispensing pumps, samplers, and chromatograph auto-injectors. Also found inside digital dental photography, fluid pumps, respirators, and blood analysis machinery

• Industrial machines - Stepper motors are used in automotive gauges, machine tooling automated production equipment (single/multi axis stepper motor controllers) and also in retrofit kits [stepper motor controllers and motors] for CNC machine control

• Scientific Instrumentation - Scientific Equipment Spectographs, observatory telescope positioning

• Chemical - Mixing and sampling devices utilizing stepper motor controllers and single/multi axis stepper motor controlled environmental testing equipment.

• Security - new surveillance products for the security industry

• Gaming industry - Stepper motors are used in the motors that power slot machines, wheel spinners and card shufflers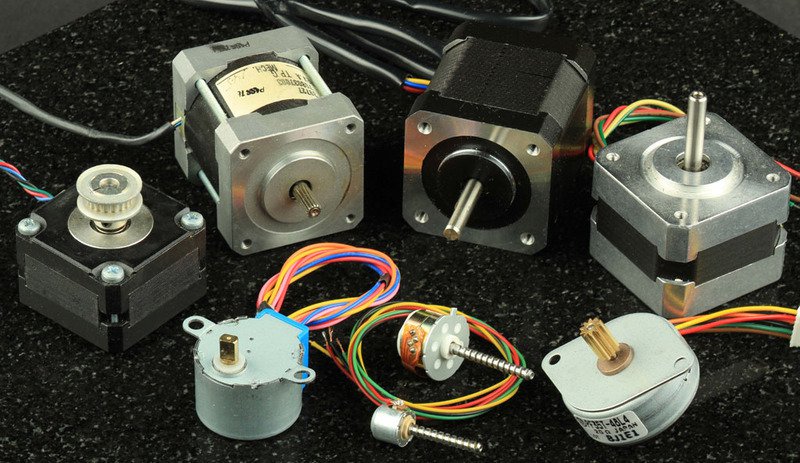 Previous:
FAQ of Stepper Motor and Driver
Next:
What is the theory of stepper motors?