Nema 17 Stepper Motor Bipolar 1.8 deg 13Ncm (18.4oz.in) 1A 3.5V 42x42x20mm 4 Wires (17HS08-1004S)
NO.:
SKU:17HS08-1004S
Review:

Post a review
Latest price:
$11.71
Buy It Now:
$9.01
This is the shortest bipolar Nema 17 stepper motor we have, it with step angle 1.8deg and size 42x42x20mm. It has 4 wires, each phase draws current 1.0A, with holding torque 13Ncm (18.4oz.in).
Electrical Specification
Manufacturer Part Number: 17HS08-1004S
Motor Type: Bipolar Stepper
Step Angle: 1.8 deg
Holding Torque: 13Ncm(18.4oz.in)
Rated Current/phase: 1.0A
Voltage: 3.5V
Phase Resistance: 3.5ohms
Inductance: 4.5mH ± 20%(1KHz)
Physical Specification
Frame Size: 42 x 42mm
Body Length: 20mm
Shaft Diameter: Φ5mm
Shaft Length: 20mm
D-cut Length: 16.5mm
Number of Leads: 4
Lead Length: 400mm
Weight: 140g
Connection
| | | | |
| --- | --- | --- | --- |
| A+ | A- | B+ | B- |
| Black | Green | Red | Blue |
Resources
Wholesale stepper motors and wholesale stepper motor drivers online with top quality and competitive price at Oyostepper.com!
Electrical Specification
Bipolar/Unipolar
Bipolar
Step Angle(°)
1.8
Holding Torque (Ncm)
13
Holding Torque (oz.in)
18.4
Rated Current (A)
1
Phase Resistance(ohm)
3.5
Connectors: Molex, Harwin, Tyco/AMP, JST etc.
Lead wires & cables: Special lengths, Protective hose
Shaft: Round, D-Cut, Cross drilled, Key-Way, Thread or Hollow
Winding: Resistance, Inductance, Rated Current, etc.
abalos1976 – 16 Mar 2018



arrived in good time and fits my extruder perfectly
Daniel Gordon – 02 Sep 2017



The item itself is as described. Except, the torque is not sufficient to work in a 3d printing application, or really very many applications at all. I just would not feed filament (at all).
Jon Dunfee – 30 Aug 2017



I use this as a direct replacement for the extruder motor on a Tevo Little Monster. It will run hot if you leave the amperage setting as-is, so it might be advisable to review your config settings and see if it can be lowered to anything < 1A (I'm at .7). Overall, works great and will likely be ordering some more soon!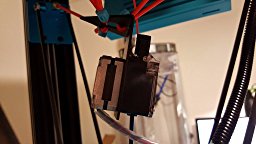 Josh – 02 May 2017



Perfect for a direct drive extruder, light wight and just powerful enough. Paired mine with an E3D Titan.
Kenneth Yuen – 17 Mar 2017



I have a Lulzbot Taz 4 3D printer with dual extruders. If you knows what a lulzbot Taz 4, 5, or 6 is, then you will also know that the dual extruder is relatively very heavy. I bought this motor to lighten the load. it has improved the print quality a bit especially with the models that have sharp corners and where the X gantry is required to make sudden reverse moves. Other than using shorter screws to mount the motor, it's a direct fit. I did not have to adjust any voltage or calibrate the filament feed rate. The connector for the wire is not included. I've printed two big prints and a couple of medium sized prints with the new setup with no issues. I have not experience any skips or binding with the motors. It was worth the upgrade.