Nema 17 Stepper Motor Bipolar 59Ncm (84oz.in) 2A 42x48mm 4 Wires w/ 1m Cable & Connector compatible with 3D Printer/CNC
NO.:
17HS19-2004S1
Review:

Post a review
Special Offer in June 2023:
5% OFF on Total Order Amount!
Enjoy Discount at Checkout!
Valid Till June 10th, 2023
Note:No coupon code needed, please place order directly!
This is an updated version nema 17 stepper motor with holding torque of 59Ncm(83.6oz.in). Based on old verstion, we have lengthened motor cable length to 1 metre, and add a 4-pin 0.1" pitch (2.54mm) Harwin female connector at the end of cable. It's good ideal for 3D printers, as well as CNC and robotics applications.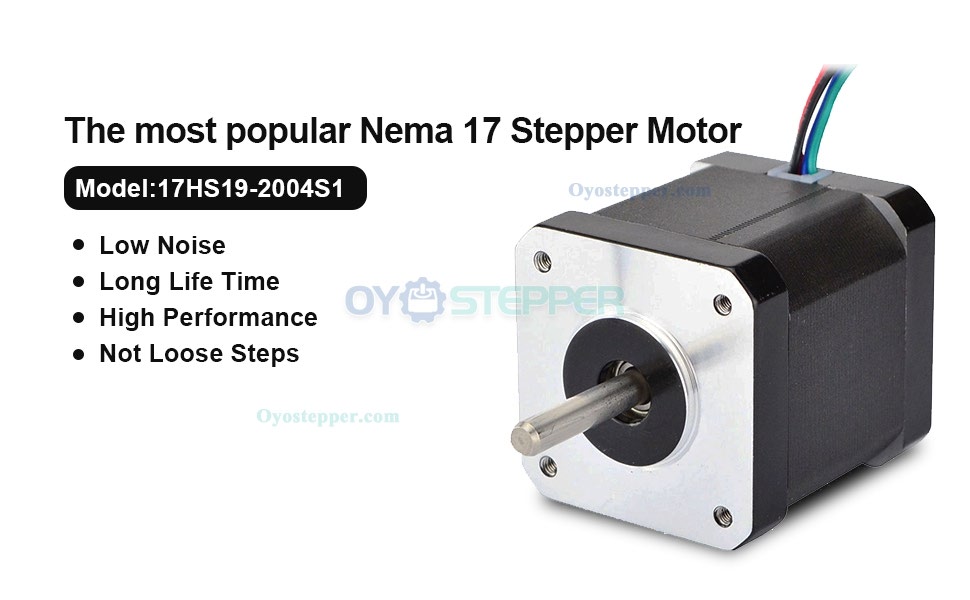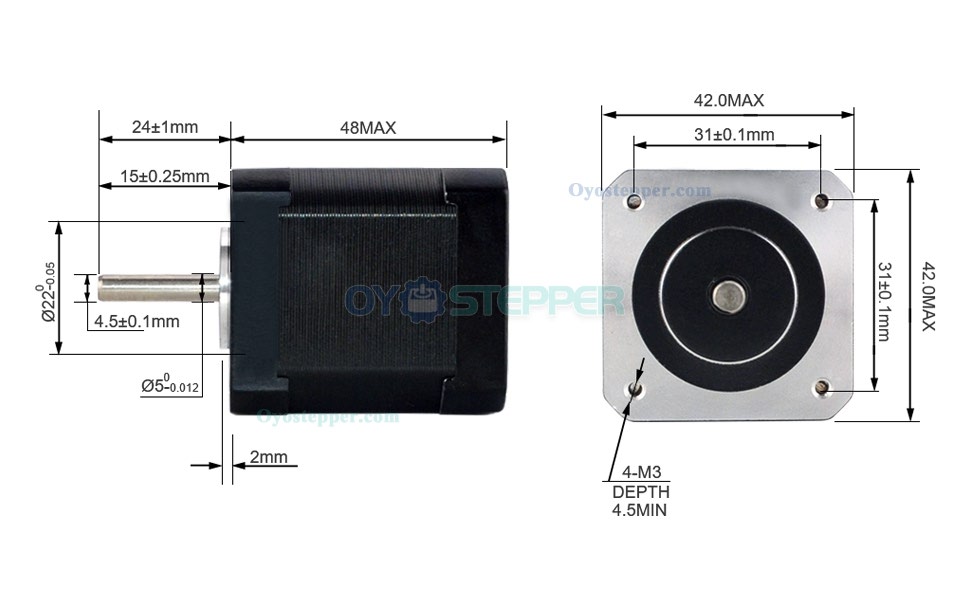 Electrical Specification
Manufacturer Part Number: 17HS19-2004S1
Motor Type: Bipolar Stepper
Step Angle: 1.8 deg
Holding Torque: 59Ncm(84oz.in)
Rated Current/phase: 2.0A
Voltage: 2.8V
Phase Resistance: 1.4ohms
Inductance: 3.0mH ± 20%(1KHz)
Physical Specification
Frame Size: 42 x 42mm
Body Length: 47mm
Shaft Diameter: Φ5mm
Shaft Length: 24mm
D-cut Length: 15mm
Number of Leads: 4
Lead Length: 1000mm
Weight: 390g
Connection
| | | | |
| --- | --- | --- | --- |
| A+ | A- | B+ | B- |
| Black | Green | Red | Blue |
Resources
Wholesale stepper motors and wholesale stepper motor drivers online with guaranteed quality and competitive price at Oyostepper.com!
Electrical Specification
Bipolar/Unipolar
Bipolar
Holding Torque (Ncm)
59
Holding Torque (oz.in)
84
Inductance(mH)
3
Phase Resistance(ohm)
1.4
Rated Current (A)
2
Step Angle(°)
1.8
Physical Specification
Body Length(mm)
48
Frame Size(mm)
42x42
Single Shaft/Dual Shaft
Single Shaft
Shaft Type
D-Cut
Shaft Diameter(mm)
5
Shaft Length(mm)
24
No. of Lead
4
Lead Length(mm)
1000
Weight(g)
400
Connectors: Molex, Harwin, Tyco/AMP, JST etc.
Lead wires & cables: Special lengths, Protective hose
Shaft: Round, D-Cut, Cross drilled, Key-Way, Thread or Hollow
Winding: Resistance, Inductance, Rated Current, etc.
Earwigger – 30 Jul 2020



Will this stepper motor work as a replacement for a soyo sy42sth47-1504a used in the lulzbot mini 3d printer?
Administrator : Based on my review of the two sets of specs, my answer is, this motor will PROBABLY work as a replacement. The physical dimensions and the step angle are a match. This motor requires somewhat more current and has slightly more torque. Unless I missed an important detail, I believe that these motors will work.
stefi – 18 Oct 2019



i originally got nema 17 with 8mm thread built in but they had not enough tork and would slip alot, thought id give theses a try and instant improvement, abit longer than standard motors so check they will fit but are still the standard 40x40mm top and bottom

Update. these are so good, i just brought 2 more, so much less heat caused by these motors, barely warm compared to the others, i even lowered the ampage and have more torque

if you need more torque, cooler motors and lower voltage to keep motor drivers cooler then these are definatly worth a try,

will need 4 more for a delta build and these are the ones i will be using, so much better than the others
yamanaka_yoshi – 16 Oct 2019



These are the best packed steppers I have ordered. Nice wire length. And will work wonderful on my mini delta project. I have 14 printer and spare motors here for each of them. I will be ordering more
rendeldesign – 19 Jan 2019



great seller. super fast shipping Great item
Administrator : Hello Friend,
Good Day!
Thanks for your positive feedback on our web ,we really appreciate it.
Mfg

laetitia.mahe74 – 19 Oct 2018



Item received as described. Working fine. Fast delivery!