Nema 17 Stepper Motor Bipolar 1.8 Deg 59Ncm (84oz.in) 2A 42x48mm 4 Wires compatible with 3D Printer/CNC
NO.:
17HS19-2004S1
Review:

Post a review
Special Offer in September 2023:
$10 Off Over $150
$20 Off Over $300
$35 Off Over $500
$55 Off Over $800
$70 Off Over $1000
$100 Off Over $1500
Enjoy Discount at Checkout!
Valid Till September 28th, 2023
Note:No coupon code needed, please place order directly!
Nema 17 Stepper Motor Bipolar 1.8 Deg 59Ncm (84oz.in) 2A 42x48mm 4 Wires compatible with 3D Printer / CNC
This is an updated version nema 17 stepper motor with holding torque of 59Ncm(83.6oz.in). Based on old verstion, we have lengthened motor cable length to 1 metre, and add a 4-pin 0.1" pitch (2.54mm) Harwin female connector at the end of cable. It's good ideal for 3D printers, as well as CNC and robotics applications.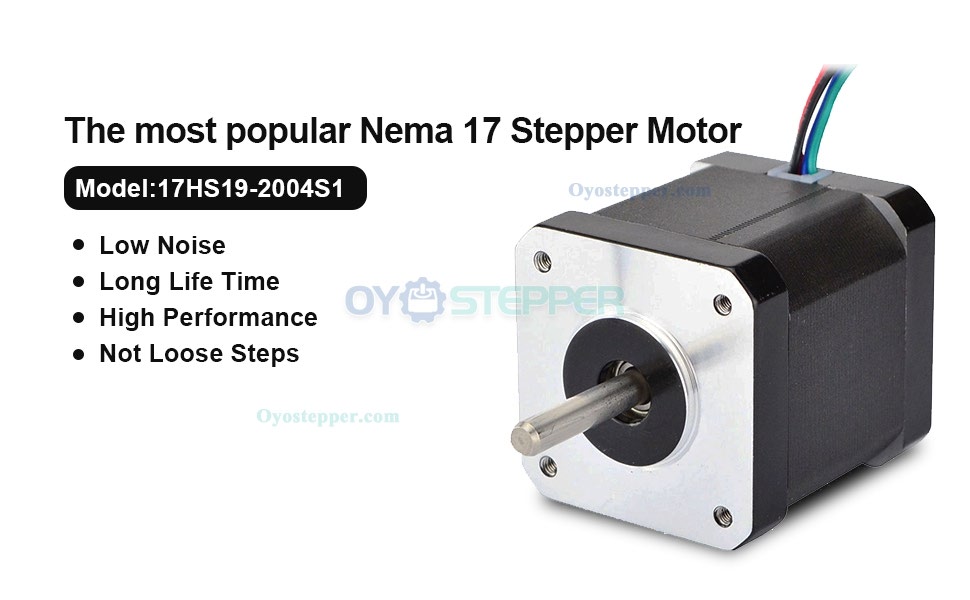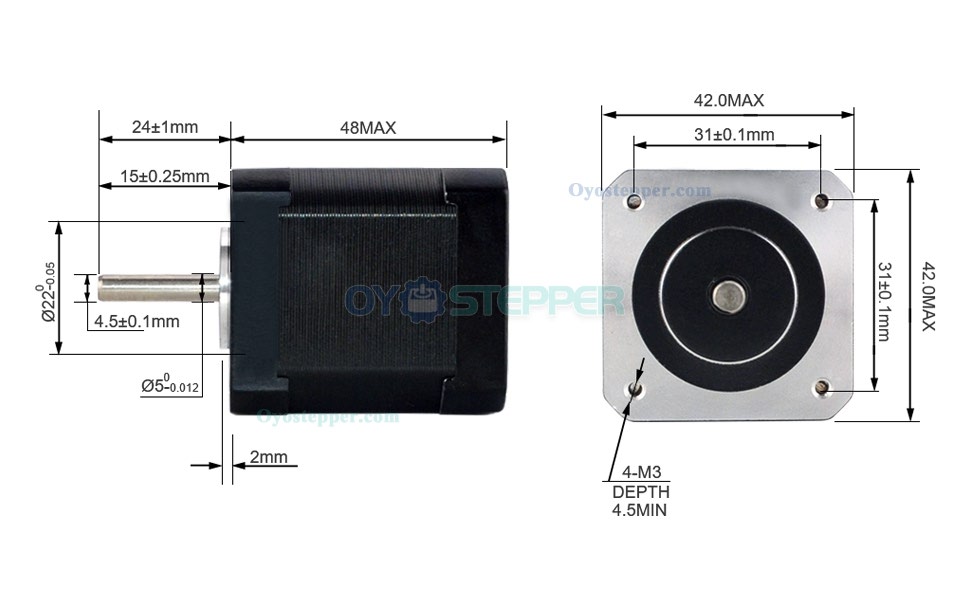 Electrical Specification
Manufacturer Part Number: 17HS19-2004S1
Motor Type: Bipolar Stepper
Step Angle: 1.8 deg
Holding Torque: 59Ncm(84oz.in)
Rated Current/phase: 2.0A
Voltage: 2.8V
Phase Resistance: 1.4ohms
Inductance: 3.0mH ± 20%(1KHz)
Physical Specification
Frame Size: 42 x 42mm
Body Length: 47mm
Shaft Diameter: Φ5mm
Shaft Length: 24mm
D-cut Length: 15mm
Number of Leads: 4
Lead Length: 1000mm
Weight: 390g
Connection
| | | | |
| --- | --- | --- | --- |
| A+ | A- | B+ | B- |
| Black | Green | Red | Blue |
Resources
Wholesale stepper motors and wholesale stepper motor drivers online with guaranteed quality and competitive price at Oyostepper.com!
Electrical Specification
Bipolar/Unipolar
Bipolar
Holding Torque (Ncm)
59
Holding Torque (oz.in)
84
Inductance(mH)
3
Phase Resistance(ohm)
1.4
Rated Current (A)
2
Step Angle(°)
1.8
Physical Specification
Body Length(mm)
48
Frame Size(mm)
42x42
Single Shaft/Dual Shaft
Single Shaft
Shaft Type
D-Cut
Shaft Diameter(mm)
5
Shaft Length(mm)
24
No. of Lead
4
Lead Length(mm)
1000
Weight(g)
400
Connectors: Molex, Harwin, Tyco/AMP, JST etc.
Lead wires & cables: Special lengths, Protective hose
Shaft: Round, D-Cut, Cross drilled, Key-Way, Thread or Hollow
Winding: Resistance, Inductance, Rated Current, etc.
B.Rodgers – 09 Jun 2023



This stepper motor is quite and runs great. They worked for a robotic arm elbow and base just fine.
Earwigger – 30 Jul 2020



Will this stepper motor work as a replacement for a soyo sy42sth47-1504a used in the lulzbot mini 3d printer?
Administrator : Based on my review of the two sets of specs, my answer is, this motor will PROBABLY work as a replacement. The physical dimensions and the step angle are a match. This motor requires somewhat more current and has slightly more torque. Unless I missed an important detail, I believe that these motors will work.
stefi – 18 Oct 2019



i originally got nema 17 with 8mm thread built in but they had not enough tork and would slip alot, thought id give theses a try and instant improvement, abit longer than standard motors so check they will fit but are still the standard 40x40mm top and bottom

Update. these are so good, i just brought 2 more, so much less heat caused by these motors, barely warm compared to the others, i even lowered the ampage and have more torque

if you need more torque, cooler motors and lower voltage to keep motor drivers cooler then these are definatly worth a try,

will need 4 more for a delta build and these are the ones i will be using, so much better than the others
yamanaka_yoshi – 16 Oct 2019



These are the best packed steppers I have ordered. Nice wire length. And will work wonderful on my mini delta project. I have 14 printer and spare motors here for each of them. I will be ordering more
rendeldesign – 19 Jan 2019



great seller. super fast shipping Great item
Administrator : Hello Friend,
Good Day!
Thanks for your positive feedback on our web ,we really appreciate it.
Mfg