NEMA 11 External Acme Linear Stepper Motor Actuator 1.8 Deg 1.0A Bipolar 1.8 Deg Lead Revolution 10.16mm(0.4") Lead Screw 150mm
Christmas Special Offer 2023:
6% Off on Total Order Amount
Enjoy Discount at Checkout!
Valid Till January 5th, 2024
Note:No coupon code needed, please place order directly!
NEMA 11 External Acme Linear Stepper Motor 1.0A 46mm Stack Screw Lead 10.16mm(0.4") Lead Length 150mm
This model is a Nema 11 ACME screw linear stepper motor with a 46mm body length, 1.8 degree step angle and 1A rated current. It is integrated with a Φ4.76mm(0.1874") diameter, 150mm(5.9055") ACME screw length and a POM screw nut, the linear travel is 10.16mm(0.4") per revolution.
Electrical Specification
Manufacturer Part Number: 11E18S1004ND5-150RS
Motor Type: External(ACME)
Step Angle: 1.8°
Holding Torque: 0.12Nm(16.99oz.in)
Rated Current/phase: 1A
Phase Resistance: 3.7ohms
Inductance: 3.7mH±20%(1KHz)
Physical Specification
Frame Size: 28 x 28mm
Body Length: 46mm
Lead Screw Length: 150mm(5.9055")
Lead Screw Diameter: Φ4.76mm(0.1874")
Lead/Step: 0.0508mm(0.002")
Lead Travel/Revolution: 10.16mm(0.4")
Number of Leads: 4
Number of Thread Starts: 8
Lead Length: 300mm
Connection
| | | | |
| --- | --- | --- | --- |
| A+ | A- | B+ | B- |
| Red | Red/White | Green | Green/White |
Resources
Lead Screw End Machining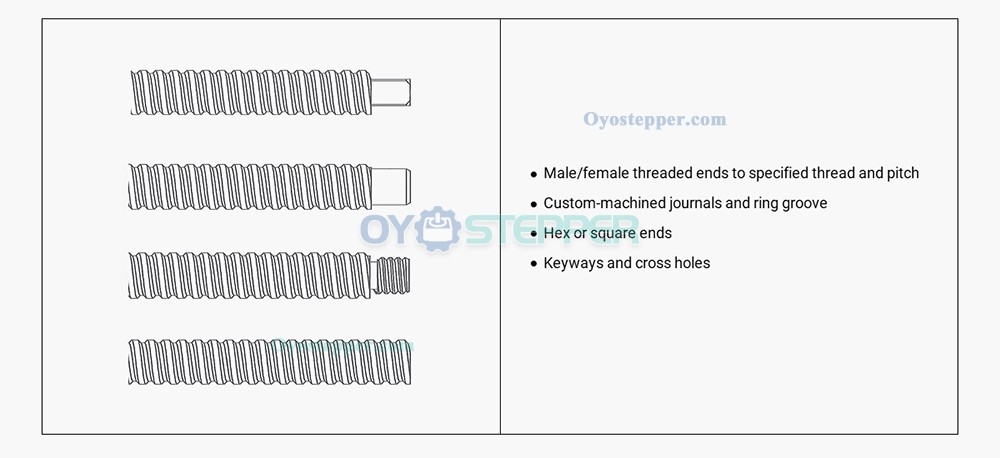 Anti-Backlash Nut
OYOSTEPPER provides anti-backlash nut for external lead screw linear actuator (except Size 34) and non-captive lead screw linear actuator (except size 24 and 34).
There should be a nominal backlash between lead screw and OYOSTEPPER standard plastic nut after millions of cycles. OYOSTEPPER guarantees few millions of cycles but physical backlash can be increased. To reduce or eliminate backlash, OYOSTEPPER provides spring pressure structure of anti-backlash nut.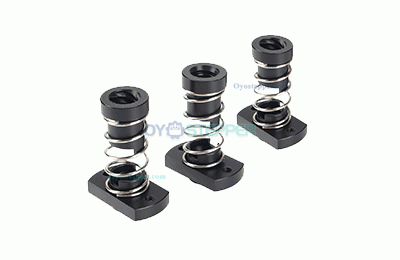 Encoders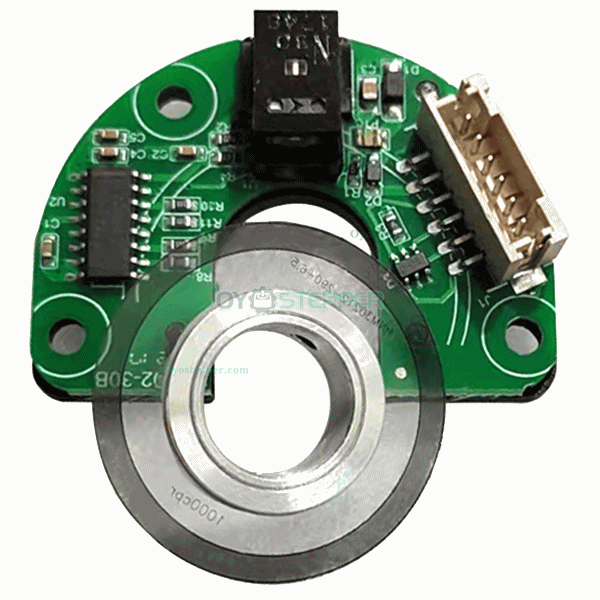 According to application requirements, customer can easily choose encoders via index output or non-index type and thru output method as single ended or differential output.
Also various resolution can be chosen freely for easier and precise positioning.
All OYOSTEPPER standard encoders are optical and incremental. When you choose encoder, please carefully look into options especially size, resolution, index and output method.
Brakes
Especially Vertical applications or holding motors from sudden power-off status, OYOSTEPPER standard power-off brakes for NEMA14, 17, 23, 24 and 34 sizes will be helpful to reduce concern of customers.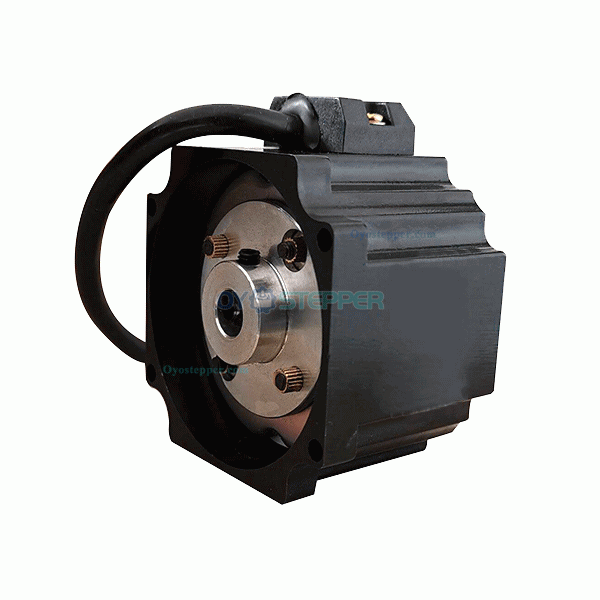 Wiring, Cabling and Connectors
Flying wire leads or connectors
Twisting wire leads
Heat shrink or expandable tubing
Cable housings
Teflon Coated Screw
If customer's applications require greaseless screw and nut combination, OYOSTEPPER offers teflon coated lead screw of stepper linear actuator.
Teflon coated lead screw stepper linear actuator enables it's longer life cycle and better thrust force generation against conventional SUS lead screw.
Teflon coating can be applied in the whole range of lead screw options in OYOSTEPPER and all types of linear actuators such as External, Non-Captive, and Captive.
In addition, Anti-backlash nut also can be combined with teflon coated screw too.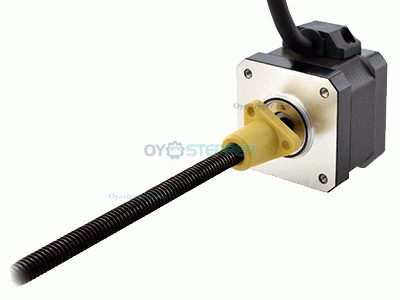 Wholesale stepper motors and wholesale stepper motor drivers online with guaranteed quality and competitive price at Oyostepper.com!
Electrical Specification
Bipolar/Unipolar
Bipolar
Inductance(mH)
3.7
Phase Resistance(ohm)
3.7
Rated Current (A)
1.0
Step Angle(deg.)
1.8
Linear Motor Type
External(Acme)
Physical Specification
Body Length(mm)
46
Frame Size(mm)
Nema 11 (28 x 28)
Lead Length(mm)
300
Lead Screw Diameter(mm)
4.76
Lead Screw Length(mm)
150
No. of Lead
4
Lead Travel/Revolution(mm)
10.16
Lead Travel/Step(mm)
0.0508
IP Rating
40