5PCS/Pack DRV8825 Stepper Driver Module with Heat Sink for 3d Printer Reprap
Special Offer in September 2023:
$10 Off Over $150
$20 Off Over $300
$35 Off Over $500
$55 Off Over $800
$70 Off Over $1000
$100 Off Over $1500
Enjoy Discount at Checkout!
Valid Till September 28th, 2023
Note:No coupon code needed, please place order directly!
Package includes:
5 x DRV8825
DRV8825 is a DMOS microstep driver with converter and overcurrent protection.
Key Features:
This product can operate bipolar stepper motors in full, half, 1/4, 1/8, 1/16 and 1/32 step modes
Output drive performance up to 45 V and 2.5A
The DRV8825 includes a fixed off-time current regulator that operates in slow or mixed decay modes
The converter is the key to the easy implementation of the DRV8825. Just enter a pulse in the "step" input to drive the motor to generate microsteps
No need for phase sequence table, high frequency control line or complicated interface programming
The DRV8825 interface is ideal for applications where complex microprocessors are unavailable or overloaded.
Electrical Specifications:
Suitable for driving step motors below 8V ~ 45V 2.5A;
Simple step and direction control interface;
Five different step modes: full, half, 1/4, 1/8, 1/16 and 1/32;
Adjustable potentiometer can adjust the maximum current output, so as to obtain a higher step rate;
Automatic current attenuation mode detection / selection;
Over-temperature shutdown circuit, under-voltage lockout, cross-current protection;
Short-to-ground protection and short-to-load protection
3.3V and 5V compatible logic current
Driving current algorithm: I = V * 2, the potentiometer has three pins. Use a multimeter to test the voltage between the pin facing DRV8825 and GND. The current can be adjusted by the potentiometer. Clockwise is to increase the current.Counterclockwise is to increase the current.
Resources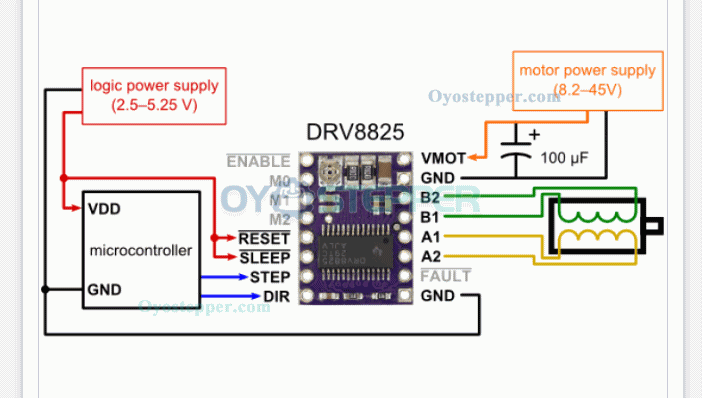 Wholesale stepper motors and wholesale stepper motor drivers online with guaranteed quality and competitive price at Oyostepper.com!