Leadshine DMA860H 2 Phase Stepper Driver 18-80VAC for Nema23 Nema34 Nema42 Stepper Motor
Special Offer in December 2023:
$10 Off Over $150
$20 Off Over $300
$35 Off Over $500
$55 Off Over $800
$70 Off Over $1000
$100 Off Over $1500
Enjoy Discount at Checkout!
Valid Till December 7th, 2023
Note:No coupon code needed, please place order directly!
Leadshine DMA860H 2 Phase Stepper Driver 18-80VAC for Nema23 Nema34 Nema42 Stepper Motor
The DMA860H is a digital stepper drive with simple design and easy setup. By implementing Leadshine advanced stepper control technology, this stepper drive is able to power 2-phase and 4 phase stepper motors smoothly with optimal torque and low motor heating & noise. Its operating voltage is 18-80VAC or 24-110VDC and it can output up to 7.2A current. All the micro step and output current are done via DIP switches. Therefore, the DMA860H are ideal choices for applications requiring simple step & direction control of NEMA 23, 24, 34, and 42 stepper motors.
Features:
·Extra-low motor noise offers excellent quietness
·Anti-Resonance, provides optimum torque and nullsmid-range instability
·Self-test and Auto-configuration technology, offersoptimum responses with different motors
·Microstep resolutions programmable
·Supply voltage up to +80 VAC
·Output current programmable, from 2.4A to 7.2A
·Pulse input frequency up to 300 KHz
·Automatic idle-current reduction
.Supports PUL/DlR and cw/ccw modes;


Electrical Specifications:
Output Peak Current: 2.4~7.2A
Input Voltage: +18~80VDC (Typical 70VDC)
Logic Signal Current: 7~16mA (Typical 10mA)
Pulse Input Frequency: 0~300kHz
Pulse Width: 2.5μS
Isolation Resistance: 500MΩ

Operating Environment and other Specifications(Tj = 25℃/77℉):
Cooling: Natural Cooling or Forced cooling
Environment: Avoid dust, oil fog and corrosive gases
Ambient Temperature: 0℃ - 65℃
Humidity: 40%RH-90%RH
Operating Temperature: -10℃ - 45℃
Vibration: 10-55Hz / 0.15mm
Storage Temperature: -20℃ - 65℃
Weight: Approx.210g (7.4oz);
Resources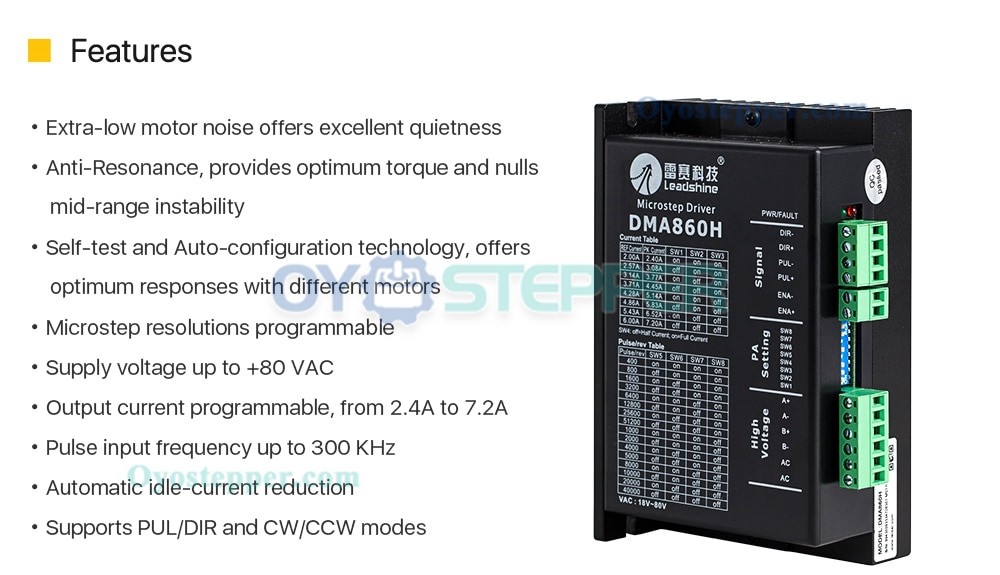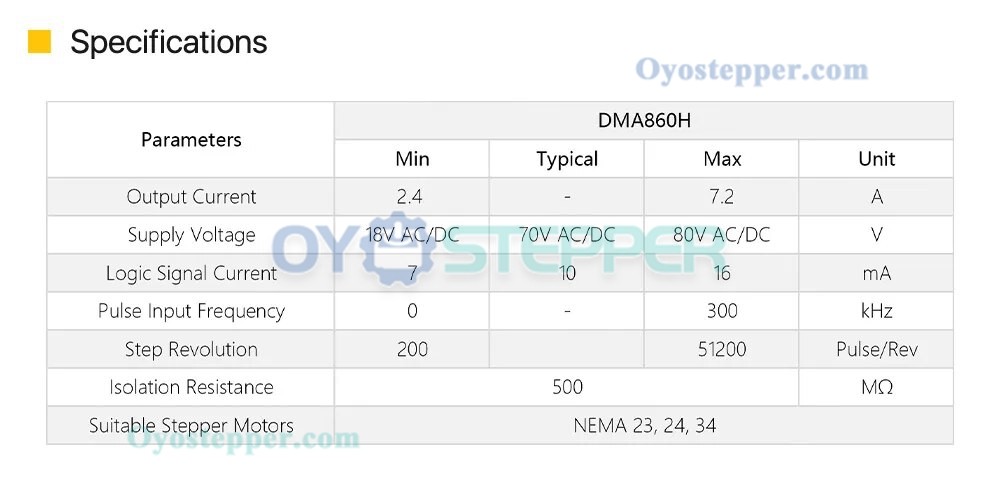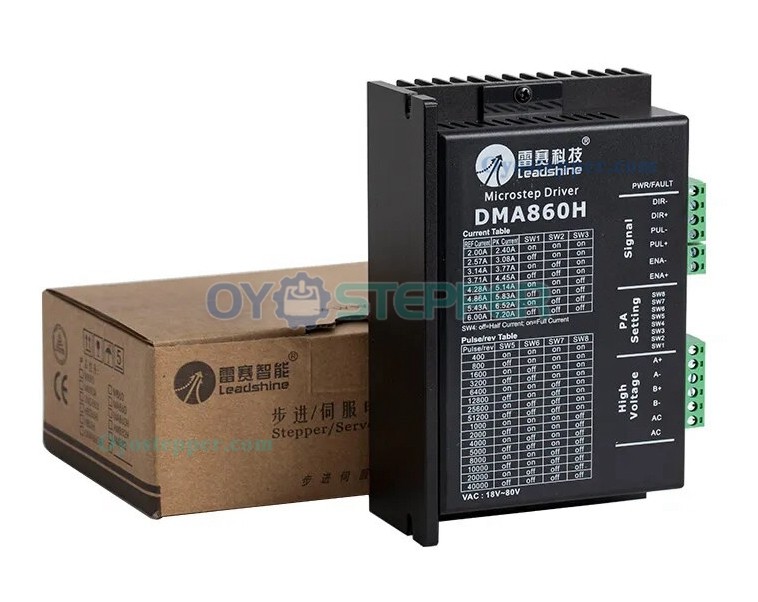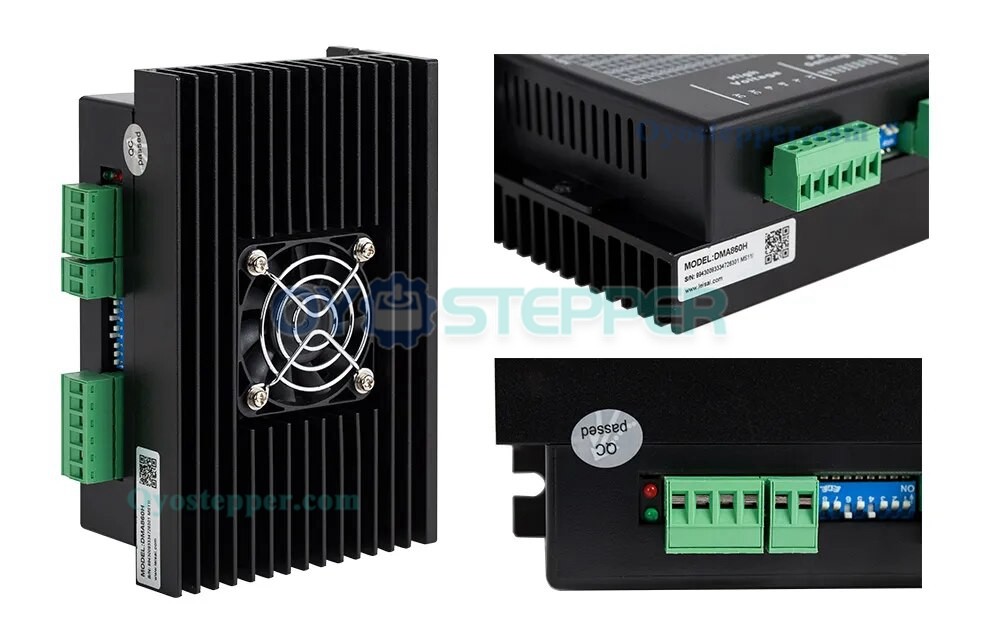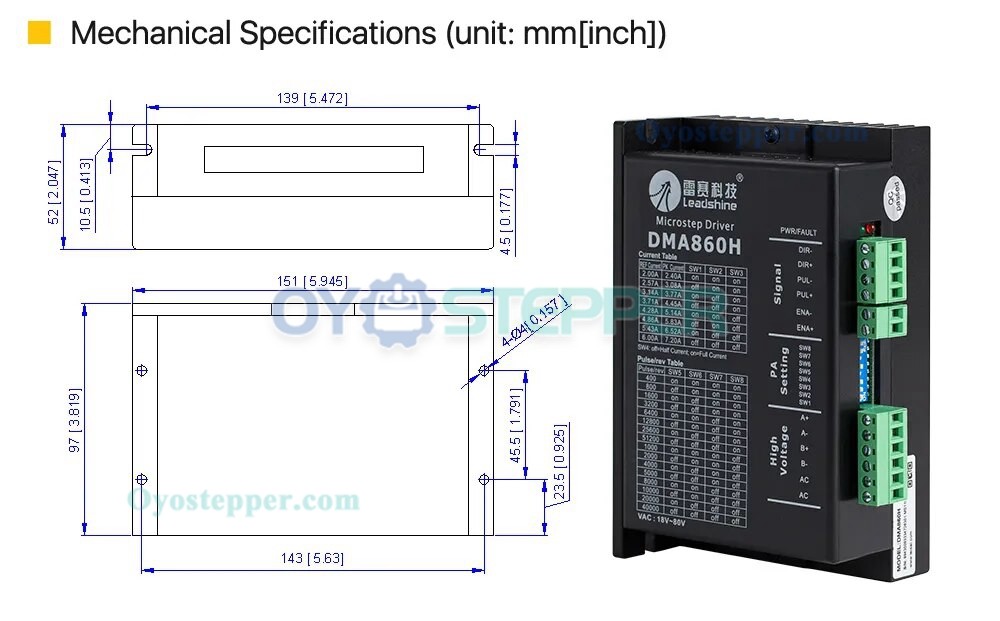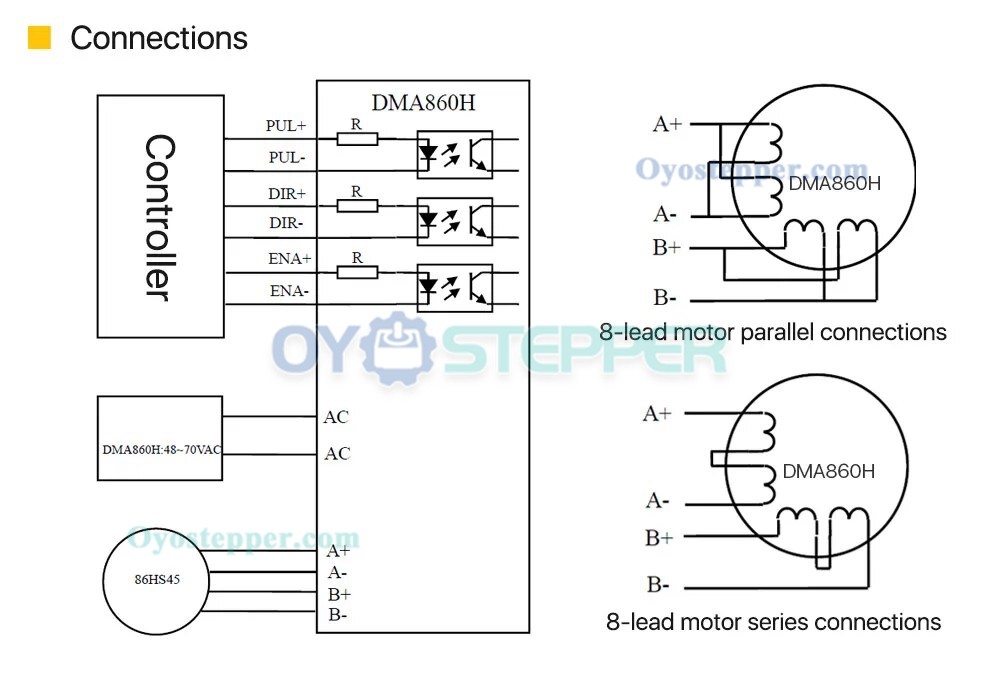 Wholesale stepper motors and wholesale stepper motor drivers online with guaranteed quality and competitive price at Oyostepper.com!
Stepper Driver Specification
Output Current(A)
2.4 - 7.2
Microstep(Steps/rev.)
400 - 51200
Pulse Width(μs)
2.5
Driving Voltage(V)
18 - 80VDC
Max. Pulse Input(kHZ)
300
Physical Specification
Weight(g)
580