Leadshine DM2282 2 Phase Digital Stepper Motor Driver for Nema 34, Nema 42 Stepper Motor
Christmas Special Offer 2023:
6% Off on Total Order Amount
Enjoy Discount at Checkout!
Valid Till January 5th, 2024
Note:No coupon code needed, please place order directly!
Leadshine DM2282 2 Phase Digital Stepper Motor Driver for Nema 34, Nema 42 Stepper Motor


The DM2282 is a high voltage, versatility fully digital stepping driver based on a DSP with advanced control algorithm. It brings a unique level of system smoothness, providing optimum torque and nulls mid-range instability. Motor self-test and parameter auto-configuration technology offers optimum responses with different motors and easy-to-use. The driven motors can run with much smaller noise, lower heating, smoother movement. Its unique features make the DM2282 an ideal solution for applications that require low-speed smoothness.


Features:
● Step & direction (PUL/DIR) or CW/CCW (double pulse) control
● Operating voltage: 150 - 230 VAC or 212 - 325 VDC
● 200 KHz max pulse input frequency
● 16 microstep resolutions of 200-25,600 via DIP switches, or 200-51,200 via software
● 8 output current settings of 1.4-8.2A via DIP Switches, or 0.5-8.2A via software
● Configurable control command smoothing for reducing motor vibration;


APPLICATIONS:
Suitable for a wide range of stepper motors, from NEMA size 34 to 51. It can be used in various applications such as laser cutters, laser markers, labeling machines, CNC router, etc. Its unique features make the DM2282 an ideal choice for applications that require both low-speed smoothness and high speed performances.


Electrical Specifications:
Output Peak Current: 0.5~8.2A
Input Voltage: +115~325VDC (Typical 325VDC), 80~253VAC (Typical 230VAC)
Logic Signal Current: 7~16mA (Typical 10mA)
Pulse Input Frequency: 0~200kHz
Pulse Width: 2.5μS
Isolation Resistance: 500MΩ Min;


Operating Environment and other Specifications(Tj = 25℃/77℉):
Cooling: Natural Cooling or Forced cooling
Environment: Avoid dust, oil fog and corrosive gases;
Protection grade:IP20
Ambient Temperature: 0℃ - 50℃
Humidity: 40%RH-90%RH
Operating Temperature (Heat Sink):70℃ (158 F) Max
Vibration: 10-55Hz / 0.15mm
Storage Temperature: -20℃ - 65℃
Weight: Approx.1.3kg
Resources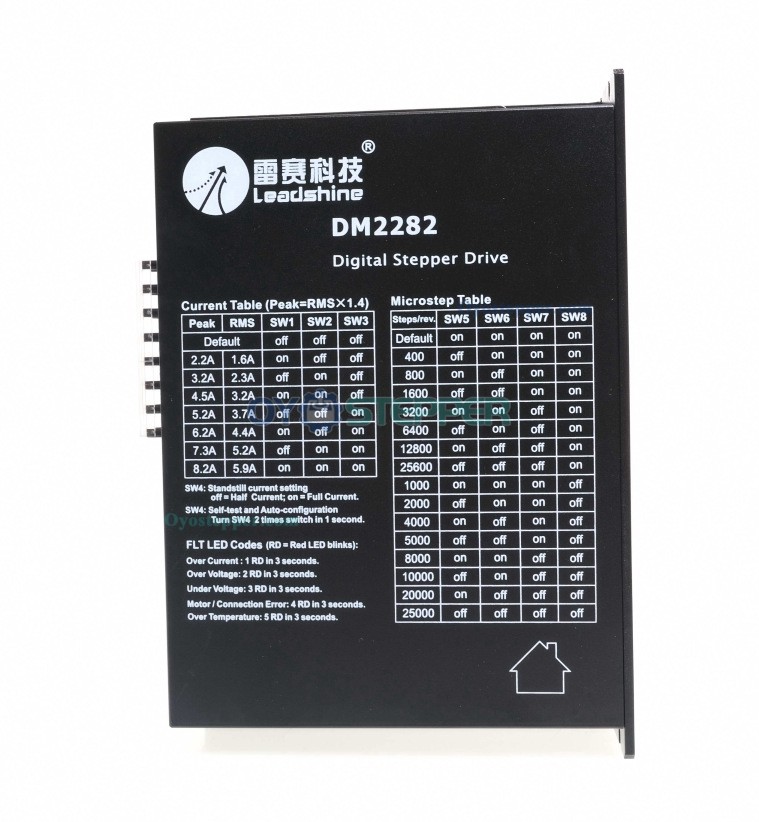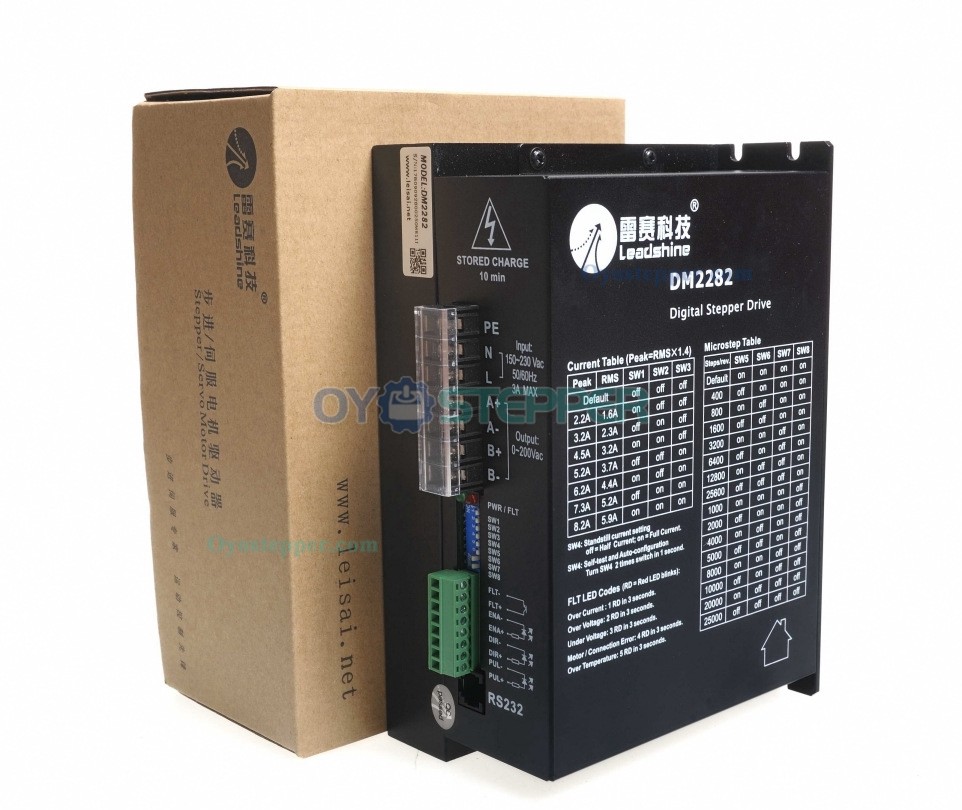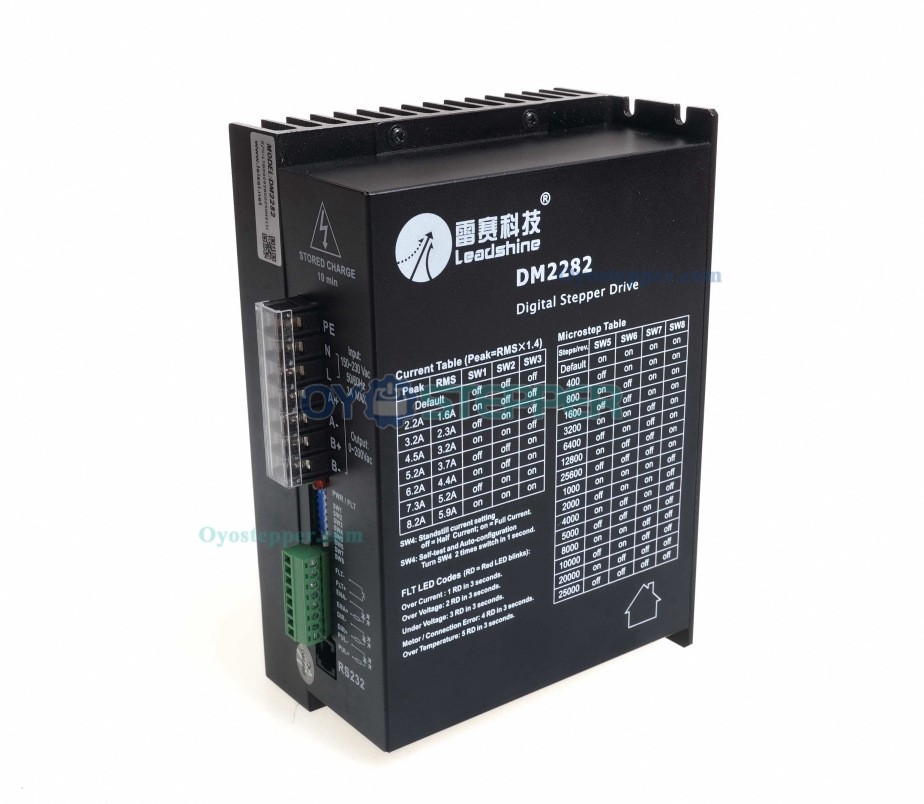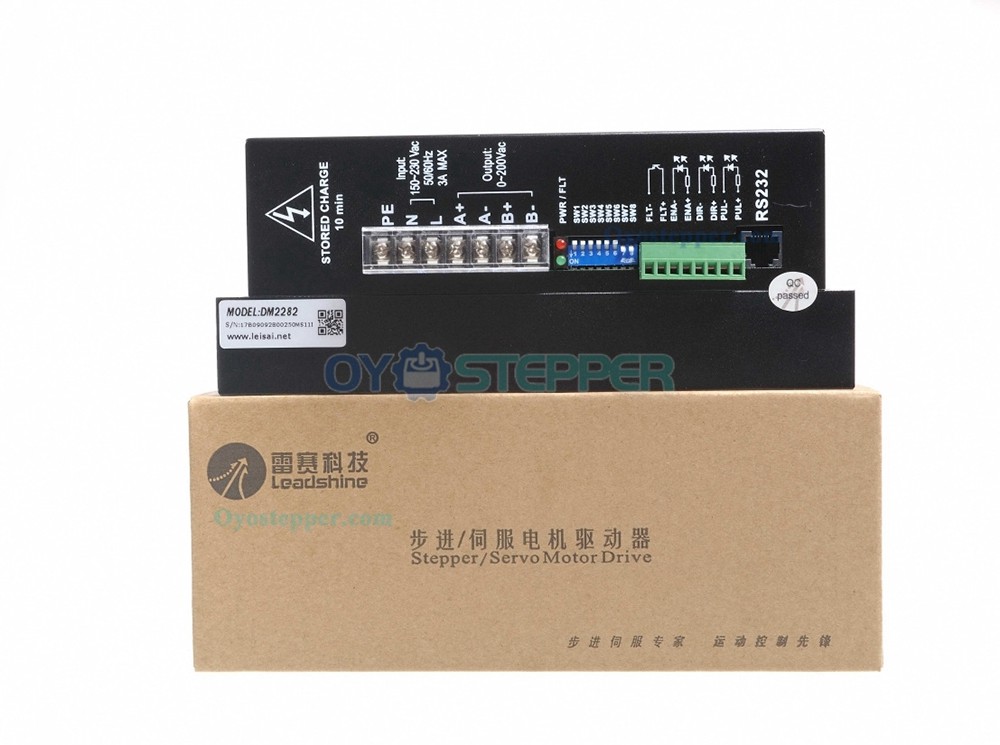 TYPICAL CONNECTION SCHEMATIC:
A typical system consists of stepper motor, stepper motor driver, power supply and controller. The following image shows a typical connection schematic: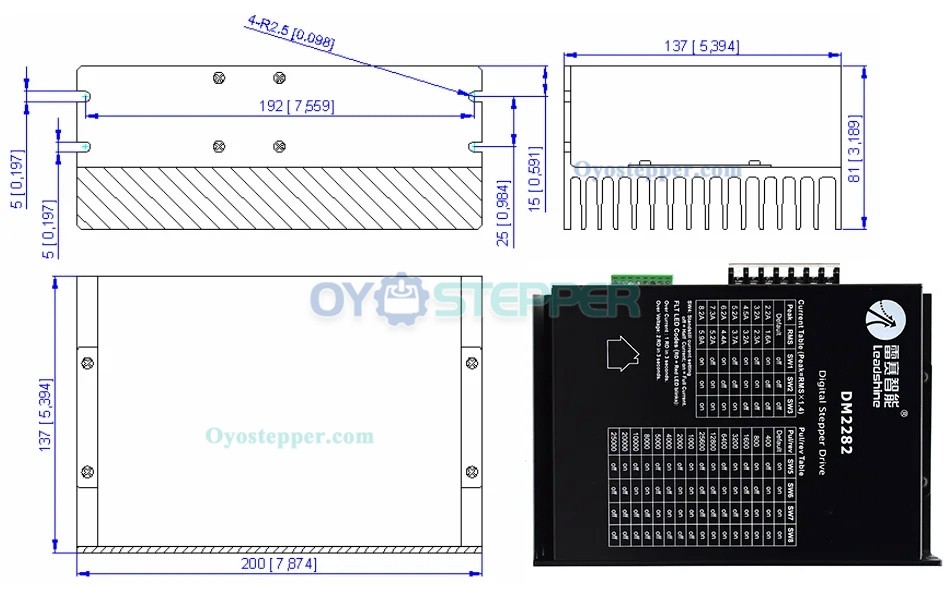 MECHANICAL SPECIFICATIONS: MM [INCH]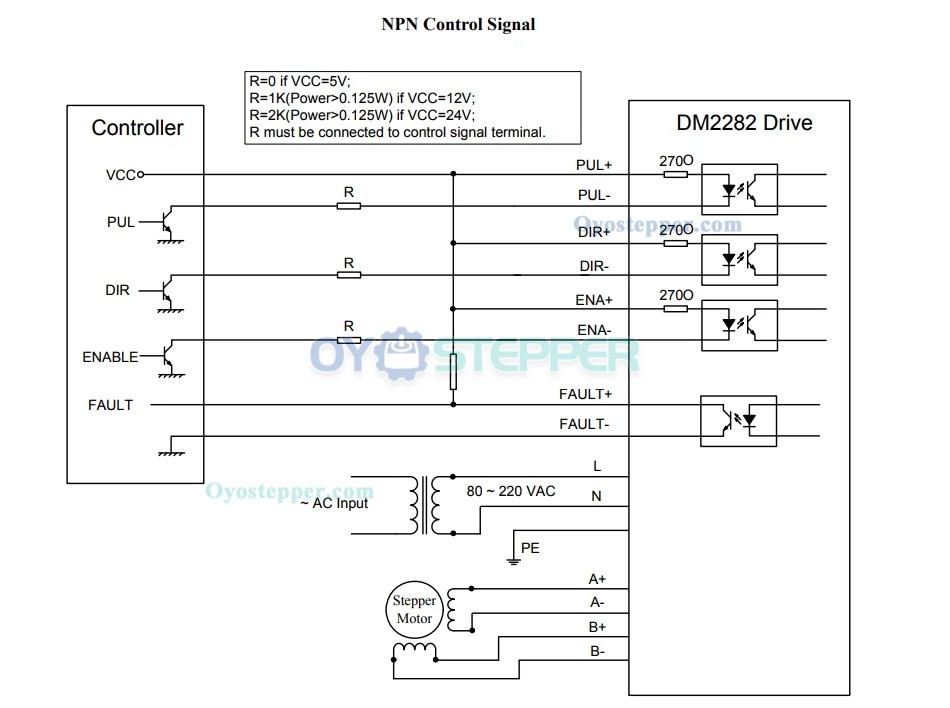 Wholesale stepper motors and wholesale stepper motor drivers online with guaranteed quality and competitive price at Oyostepper.com!
Electrical Specification
No. of Phase
2
Encoder Feedback
No
Integrated with Pulser
No
Output Current(A)
0.5 - 8.2
Max. Pulse Input(kHZ)
200
Input Voltage(V)
180 - 253 AC
Product Series
D Series
Microstep(Steps/rev.)
200 - 25600
Physical Specification
Weight(g)
1300