Nema 17 Economy Linear Stepper Motor External 34mm Stack 0.4A Lead 8mm/0.31496" Length 32mm for DIY 3D Printer Kits
NO.:
17LS13-0404E-32G
Review:

Post a review
Latest price:
$31.01
Buy It Now:
$23.86
This model is economy linear stepper motor which named Nema 17 external linear actuator, the motor part is 34mm 1.8 degree 0.4A Nema 17 stepper motor. It was integrated with 32mm Tr8x8 threaded rod and a Brass screw nut move along the threaded rod.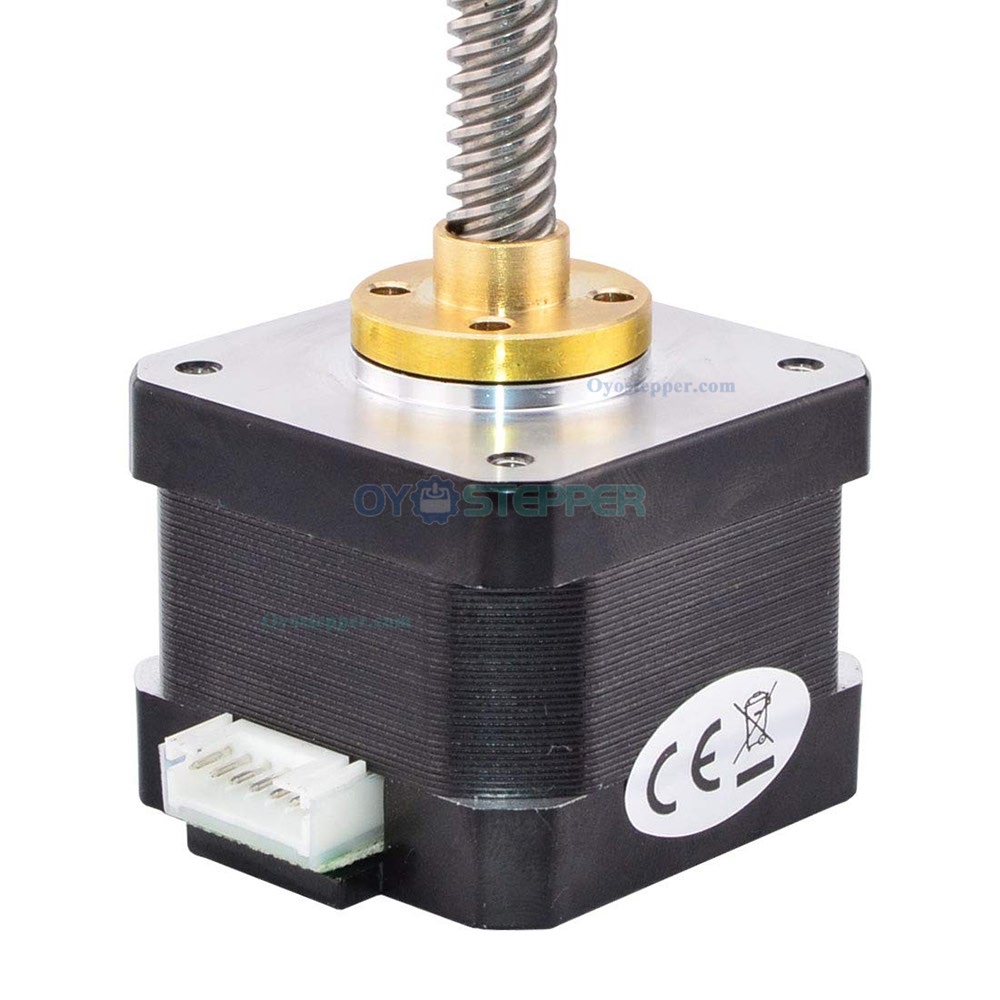 Electrical Specification
Manufacturer Part Number: 17LS13-0404E-32G
Motor Type: External Linear Stepper
Step Angle: 1.8 deg
Holding Torque: 26Ncm(36.8oz.in)
Rated Current/phase: 0.4A
Phase Resistance: 30ohms
Voltage: 12V
Inductance: 37mH ± 20%(1KHz)
Physical Specification
Frame Size: 42 x 42mm
Body Length: 34mm
Lead Screw Length: 32mm(1.2598")
Lead Screw Diameter: Φ8mm(0.315")
Lead /Step: 0.04mm(0.0015748" )
Lead/Revolution: 8mm(0.315")
Number of Leads: 4
Lead Length: 400mm
Weight : 400g
Connection
| | | | |
| --- | --- | --- | --- |
| A+ | A- | B+ | B- |
| Red | Brown | Yellow | Green |
Resources
Wholesale stepper motors and wholesale stepper motor drivers online with guaranteed quality and competitive price at Oyostepper.com!
Electrical Specification
Bipolar/Unipolar
Bipolar
Holding Torque (Ncm)
26
Holding Torque (oz.in)
36.8
Inductance(mH)
37
Motor Type
External
Phase Resistance(ohm)
30
Rated Current (A)
0.4
Step Angle(°)
1.8
Physical Specification
Body Length(mm)
34
Frame Size(mm)
42x42
Lead Screw Diameter(mm)
8
Lead Screw Length(mm)
32
Lead Revolution(mm)
8
Linear Travel / Step(mm)
0.04
No. of Lead
4
Lead Length(mm)
400