Nema 23 Stepper Motor Bipolar 1.8 Deg 1.26Nm (178.4oz.in) 2.8A 2.5V 57x57x56mm 4 Wires (23HS22-2804S)CNC Stepping Motor DIY CNC Mill
NO.:
23HS22-2804S
Review:

Post a review
Special Offer in December 2023:
$10 Off Over $150
$20 Off Over $300
$35 Off Over $500
$55 Off Over $800
$70 Off Over $1000
$100 Off Over $1500
Enjoy Discount at Checkout!
Valid Till December 7th, 2023
Note:No coupon code needed, please place order directly!
Nema 23 CNC Stepper Motor 2.8A 178.5oz.in/1.26Nm CNC Stepping Motor DIY CNC Mill (23hs22-2804s)
This is one of the most popular Nema 23 stepper motor, it with step angle 1.8deg and size 57x57x56mm. It has 4 wires, each phase draws 2.8A, with holding torque 1.26Nm (178.4oz.in).
Electrical Specification
Manufacturer Part Number: 23HS22-2804S
Motor Type: Bipolar Stepper
Step Angle: 1.8 deg
Holding Torque: 1.26Nm(178.4oz.in)
Rated Current/phase: 2.8A
Voltage: 2.5V
Phase Resistance: 0.9ohms
Inductance: 2.5mH ± 20%(1KHz)
Physical Specification
Frame Size: 57 x 57mm
Body Length: 56mm
Shaft Diameter: Φ6.35mm
Shaft Length: 21mm
Number of Leads: 4
Lead Length: 300mm
Weight: 700g
Connection
| | | | |
| --- | --- | --- | --- |
| A+ | A- | B+ | B- |
| Black | Green | Red | Blue |
Resources
Nema 23 is a stepper motor with a 2.3 x 2.3 inch faceplate. It is suitable for 3d printer, robot arm, cnc machine,etc. In low-speed applications, the stepper motor can be driven at the desired speed without missing a single step.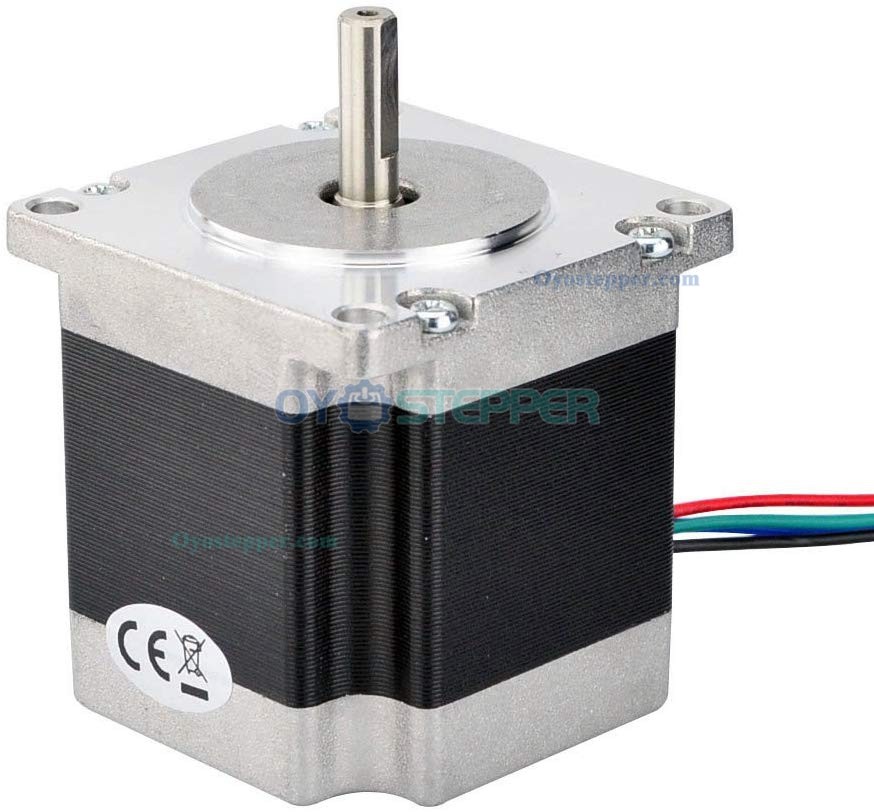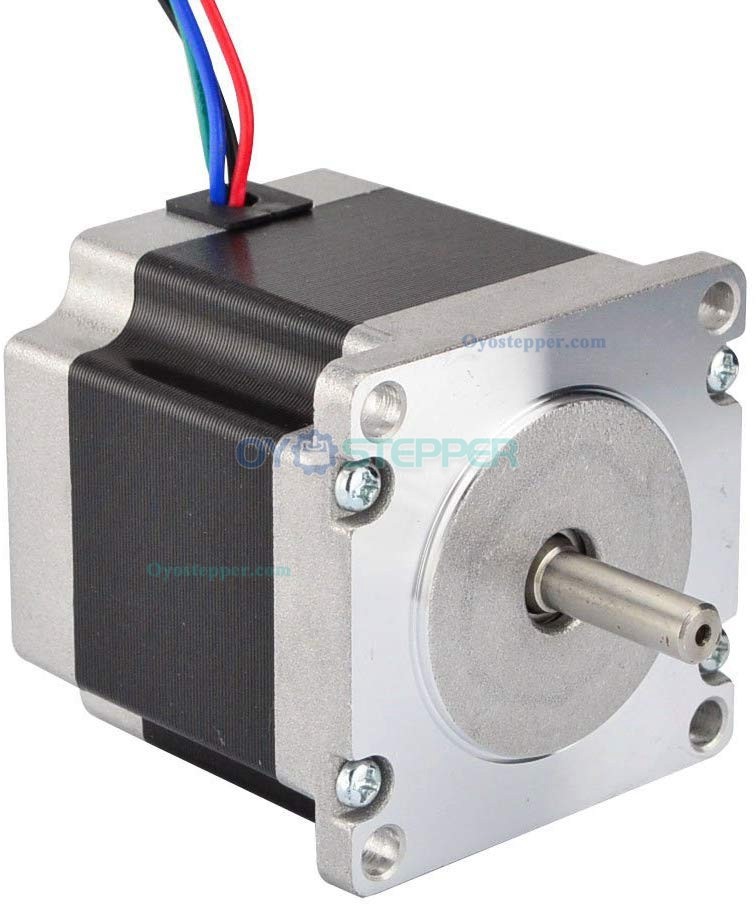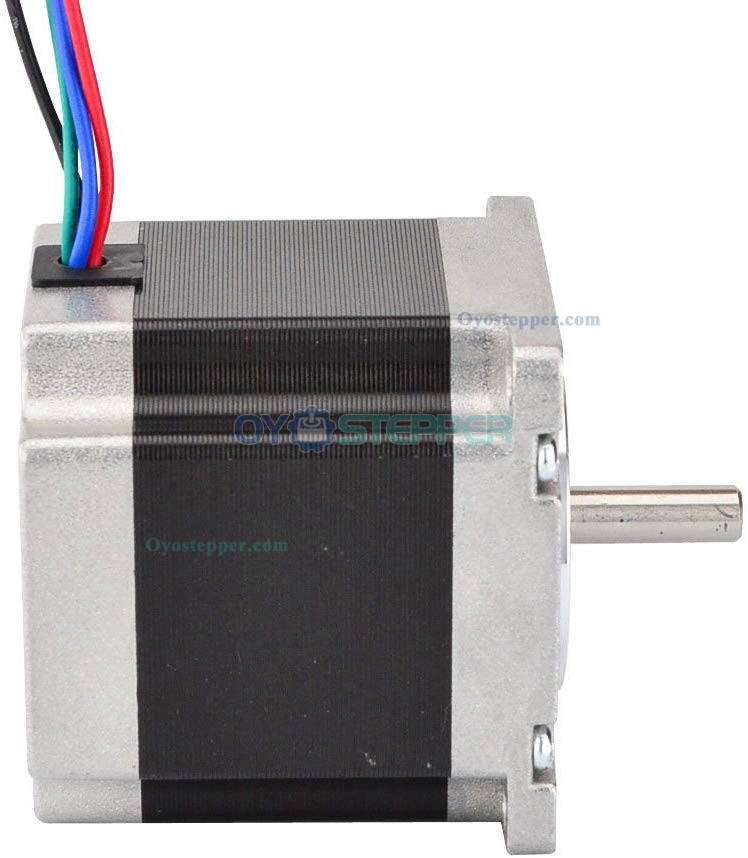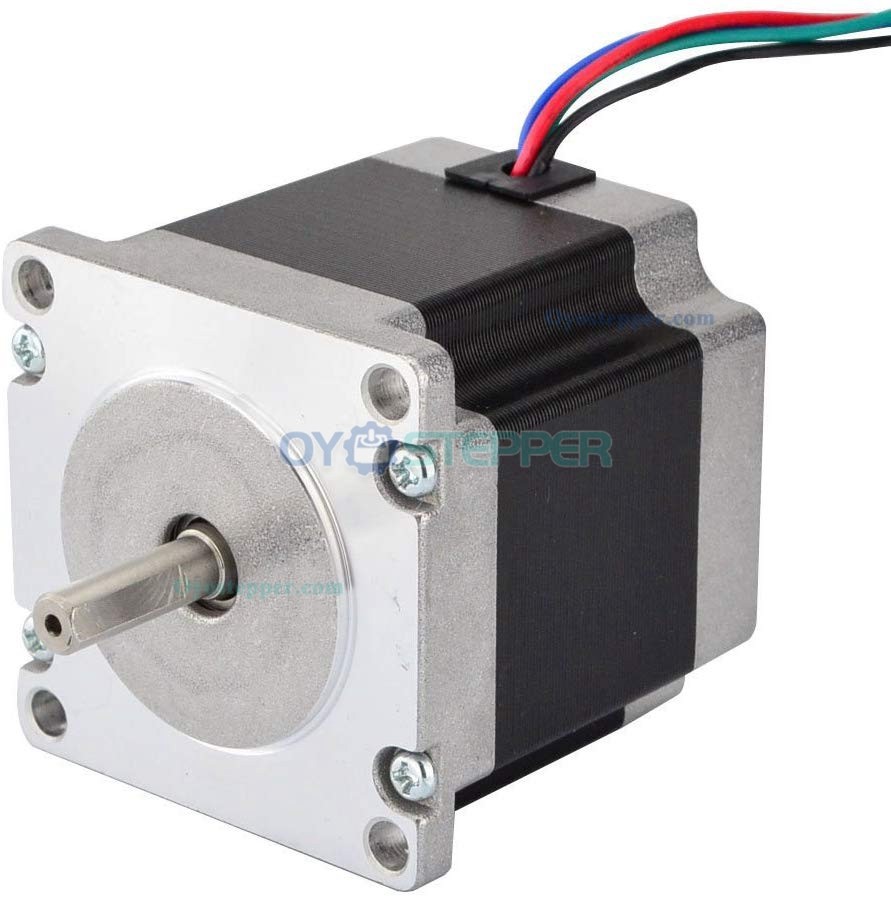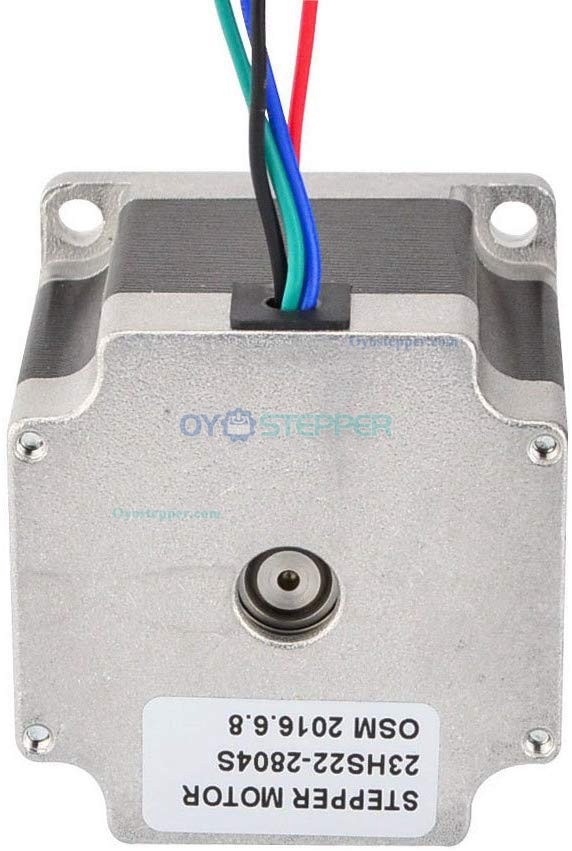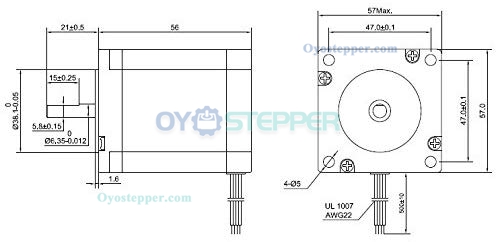 Wholesale stepper motors and wholesale stepper motor drivers online with guaranteed quality and competitive price at Oyostepper.com!
Electrical Specification
Bipolar/Unipolar
Bipolar
Holding Torque (Ncm)
126
Holding Torque (oz.in)
178.4
Inductance(mH)
2.5
Phase Resistance(ohm)
0.9
Rated Current (A)
2.8
Step Angle(°)
1.8
Physical Specification
Body Length(mm)
56
Frame Size(mm)
57x57
Single Shaft/Dual Shaft
Single Shaft
Shaft Type
D-Cut
Shaft Diameter(mm)
6.35
Shaft Length(mm)
21
No. of Lead
4
Lead Length(mm)
500
Weight(g)
700
Connectors: Molex, Harwin, Tyco/AMP, JST etc.
Lead wires & cables: Special lengths, Protective hose
Shaft: Round, D-Cut, Cross drilled, Key-Way, Thread or Hollow
Winding: Resistance, Inductance, Rated Current, etc.
nick.tracy1980 – 12 Dec 2019



The motor has a good torque if provided with appropriate power. (rating changed to 5 stars)
OLD COMMENT :Torque at 12V is not impressive. (I think its < 1 N/m because it barely performs better than a nema 17 rated at 0.42 N/m)
EDIT: the driver I use (A4988) has a voltage regulator with a screw allowing to increase the voltage. Doing so increased the torque significantly (and the heat production on the driver).
So overall my previous comment on torque does not stand, since this was a matter of power supply/driver.
charles bouk – 17 Nov 2016



This is the first time I'm using a motor in a project. It's a learning experience but this motor is working great in my tests so far. I'm sure the only reason it isn't lifting more than the 1.5 pound chain I am testing with is my Arduino-based (ie current limited) power supply. I'm working on a power circuit that will allow this thing to perform great.
Ric Meyer – 20 Jul 2016



Difficult to find the right combo of drive voltage, current, pw, etc, but it cooks fine now.
flatsfisher – 20 Nov 2015



Excellent motor. Worked perfectly for my cnc lathe project
Jomatecc – 22 Sep 2015



Haven't used a lot of steppers before but as far as I can tell run smooth and fairly quiet, solid IMHO.